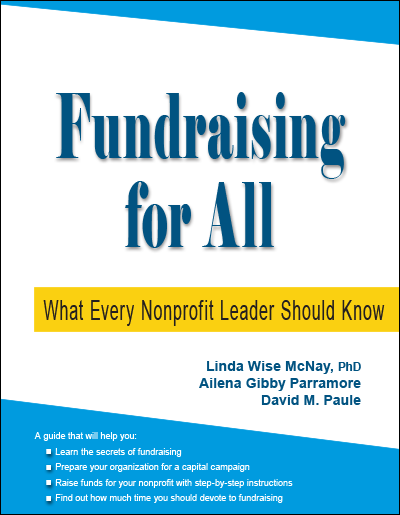 As 2021 draws to a close and I look back on my work for the year, I am delighted and saddened all at the same time. The team at Our Fundraising Search has done amazing work-again- and we are proud to be entering into our 10th year of service to the community in 2022. We used the extra time we had from being virtual as opposed to in person and we offered new services to our clients, and we authored a book: Fundraising for All. And because we could be virtual, we now work in twelve states.
But as we all know the Covid pandemic has held nonprofits back from the good work they do and makes all of our already challenging work even harder. As we begin anew, do whatever inspires you to move ahead. For me, that is and always has been to make a list. I love checking items off the list and then I make another list for tomorrow. I make lists for everyone in my family and sometimes for my neighbors, too! 
So, in that same spirit of helpfulness that my neighbors enjoy, I have made up a list of twenty-two resolutions for 2022. I know twenty-two is a lot, and certainly the easiest way to fail at keeping a New Year's resolution is to make it a high-pressure situation. Maybe you could just choose three from this list?
Linda's List of Resolutions for Fundraisers:
I resolve to be the very best fundraiser I can be. I will be consistent, persistent, and open to learning new things. I will organize my time to be available to prospects, clients, and friends all while remembering to care for my own health and wellbeing.
I will research three new prospects every working day. Reading the Atlanta newspaper, the Chronicle of Philanthropy, the Chronicle of Higher Education, the Atlanta Business Chronicle, and other listservs all offer a wealth of information that nonprofits can use. I will link in and friend and reach out to these "suspects" and look for opportunities to connect.
I will expand my network by joining an organization(s) that offers newsletters and training and events for making new friends and contacts. Sign up for Our Fundraising Search news here: https://ourfundraisingsearch.com/contact/
I will review my organization's mission including the website, and all written and oral communications. It may need to be updated or revised, but it should clearly be articulated in the organization's case for support. It is the elevator speech that each and every person in the organization can cheerfully and confidently recite.
I will insist that my organization leadership review annually and update every 3-5 years a comprehensive strategic plan. A strategic plan which may be just a few pages long creates a set of measurements to chart the organization's progress. It contains explicit revenue and financial data. It is a roadmap and a report card for how the organization is performing.
I will assist my organization's leadership in identifying, recruiting, and training new board members, volunteers, and staff to serve our mission. Fundraising responsibility is shared by the executive director, development and other staff and the board of trustees.
I will collaborate with all of my colleagues. This can sometimes be difficult. Goal sharing and team building activities will help build this partnership.
I will set regular appointments to meet with donors and prospects. It might be every morning at the local coffee shop on the way into the office. It might be taking one entire day for visits/communications without ever venturing into the office. Some organizations set a goal-maybe twenty per month. An average of one a day sounds doable.
Appointment setting is one thing, actually getting out is another. I will actually attend those appointments in person, masked or unmasked, when I can, and virtually at other times.
I will remember to ASK. I will solicit prospects. I will ask for the gift. I will ask for a specific amount and I will LISTEN to the response.
I will follow up. If the prospect says yes to a gift, I will thank them in writing for their pledge and make sure it is paid. If the prospects say maybe, I will endeavor to answer all of their questions and ask again at the appropriate time. If the prospect says no (which I rarely hear), I will seek to find what it will take to get to yes. This is where the persistence pays off.
I will acknowledge all pledges and gifts and steward donors regularly to the next gift. I know that the source of new gifts is in past donors. It is not possible to thank a donor too much or too many times.
I will track my calls and results and share trip reports in the specified database and with my colleagues.
I will make a fundraising plan and follow it throughout the year. It is more than a calendar. It has specific goals and timelines and action items and assignments.
I will educate myself about how to raise funds and improve my skills.

 

I will read and research, learn from and share what I know with others.
I will regularly evaluate our fundraising plan, carefully monitoring the budget and activities and measuring the results. There should be no surprises at year end.
I will focus on individuals. While corporations give approximately 5% of the $470 billion given away every year, foundations give about 15%, and individuals make up 80% of annual donations.

 

If one does not exist, I will create a major gifts program for my organization. That may include defining the level for a major gift and polishing up the case for support and teaching others how to ask. If a major gift program exists, I will raise the levels and solicit even more prospects at the highest levels.
While maintaining the tried-and-true basics of fundraising, I will research new tools for my organization. Is there something I can learn using a new technology? Can I watch a new online seminar or listen to a podcast? Donors want and expect fresh eyes and current thinking about our organization.
If my organization does not have an endowment, I will set about to create one. That means learning about the basics of planned giving and inviting others to join me in the effort.
I will pace myself and make sure that I will do the right things at the right time which requires planning and effort. I will not be distracted by big new ideas from board members that are not featured in the current strategic plan. All promising ideas can be vetted and added in future years.
I will repeat all of my first twenty-one resolutions and evaluate the results. Fundraising is not rocket science. Anyone can do it. We recommend that organizations take steps to invite all ages to participate in advancing and funding the missions of their favorite nonprofits.
Let us hear from you on how we can assist you and your organization to meet your goals whether they be with staffing, strategic planning or preparing for your next capital campaign. Best wishes for a wonderful and productive new year!
If this has been helpful to you, we'd love for you to sign up today at ourfundraisingsearch.com/contact for our inaugural newsletter which will be published January 15.